Client
Cleveland Clinic London
Agency
Pink Squid
Year
2019
Art-Director
Charles Grenu
Copywriter
Teodora Stetco
Developer
Under2
American health organisation, Cleveland Clinic are in the process of bringing over their high-end, private healthcare to the UK. Opening a new hospital and a new office within Victoria, London all by 2020, Cleveland Clinic needed a London-centric careers website to help advertise their arrival within the country.
To coincide with the development of the UK-centric branding advertising, which was toned down and cleaner in comparison to the its American counter-part, the website needed to showcase their prestigious history whilst introducing themselves to an audience that didn't really know them. The website, much like the UK side of the organisation was always a product that was never meant to looked as something that will be complete with one phase of development but something that be continually upgraded and refreshed as the organisation within the UK grew.
The structure of Cleveland Clinic London's business is vast, there are more than just roles for doctors and nurses, so the website needed to reflect this. Research and Education is a large part of the Cleveland Clinic heritage and they have been apart of some incredible medical breakthroughs, including performing a face transplant on the youngest patient in the United States. These incredible feats and stories needed to be part of the new website, so research and education became a big part of the website's content.

The sitemap showed the large structure of the website, a lot of information was available to users but all of it was easy to access and find. To make sure of this extensive testing and reviews were carried out on the wireframes to make sure the website was easy to navigate and even though there would a lot page and a lot of information the website remained user-friendly.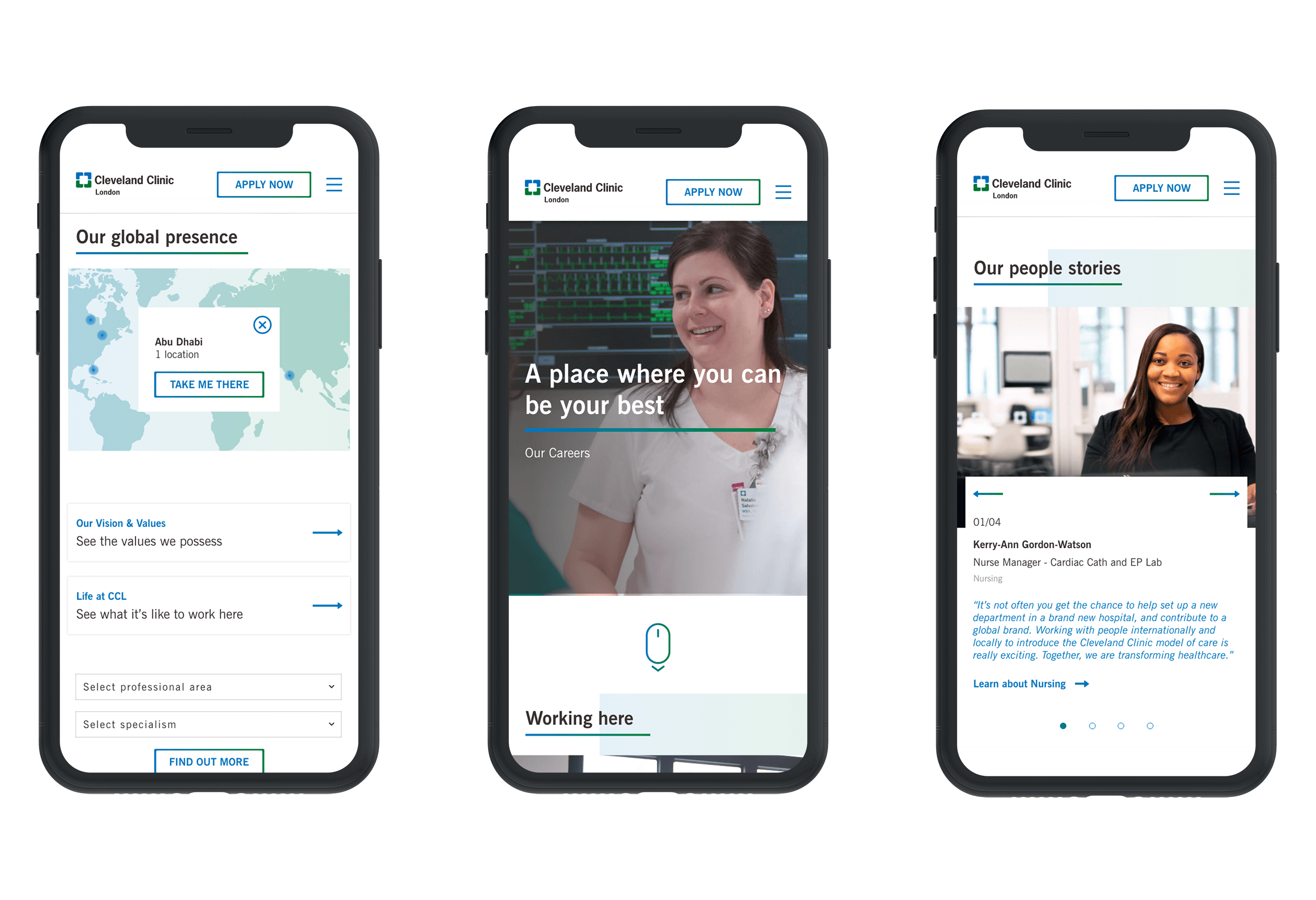 Outcome
Since the launch of the website, Cleveland Clinic have expressed their happiness with the site and the website is on course for further future updates to help promote their organisation even more to the London market.